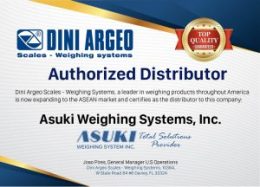 Dini Argeo Exclusive Distributorship
Asuki Weighing System Incorporated has reached a new milestone. 
We are now the exclusive distributor of Dini Argeo Scales – Weighing System here in the Philippines. 
Dini Argeo is a company specialising in the production of weighing systems. With their mechanical, electronic and I.T. knowledge, Dini Argeo offers solutions in the area of mechatronics, ranging from mobile weighing systems to scales for commercial and industrial use. This includes a wide range of components, electronic solutions and software, for industrial automation and systems integration.
Dini Argeo boasts over 100 years of experience in the area of weighing, batching and industrial automation. The company offers state of the art technology, which guarantees the highest levels of precision, keeping to international standards.
In the fall of 2016, Dini Argeo was acquired by Rice Lake Weighing Systems. The two brands' strong history and ideals will increase customers' product and service offering in Europe and around the world.